Game Downloads
You're located in category:
War of the Lance
Review 1:

This is the second chapter of the Dragonlance action roleplay story. If you are a really Dragonlance fanatic you will find this game nice. It's an action based roleplay game where you can control all the famous characters from the Dragonlance books like Tanis, Caramon, Raistlin and Laurana.

All though the game is quite old it still contain most movement features like never games include. The sound can be rather annoying but you can turn that of if you want to. All though this game game runs rather smooth without any huge bugs the game can lack at moments especially when you are in combat against many enemies at a time. This can be rather annoying as you can get killed just because of this. Overall a good action considered the time where it's from.

Review 2:

A precursor to SSI's more famous Sword of Aragon fantasy strategy game, War of the Lance is SSI's first foray into the niche genre of fantasy wargames. As one of the first games of its kind, War of the Lance introduces many gameplay elements that became standards in the genre: a good mix of AD&D fantasy units (in this case the Dragonlance universe) and wargame-style tactical options. Resource management is also key, as you can only build new units in cities you conquer. Overall, War of the Lance is a fun fantasy wargame that, although lacking in replayability or longevity that other games enjoy, would influence classics such as Sword of Aragon and SSG's Warlords.
Download full game now: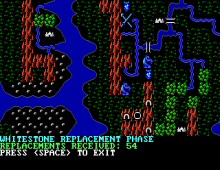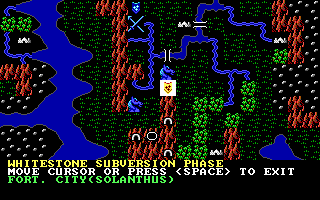 War of the Lance screenshots
People who downloaded this game have also downloaded:
Champions of Krynn, Dark Queen of Krynn, The, Curse of the Azure Bonds, Pools of Darkness, Dungeons & Dragons: Warriors of the Eternal Sun