Game Downloads
You're located in category:
Unlimited Adventures
Review 1:

Unlimited Adventures must be one of my favourite game creation programs that have ever been made. Probably because it makes use of the popular Hack 'N Slash game engine developed by Strategic Simulations Inc. who are also behind this program. You might be aware of that SSI's roleplay games saw improved graphics for all games in 1992 and after that year with games like Dark Queen of Krynn and Pools of Darkness. The graphics were much better compared to a game like Pool of Radiance while the same engine was still being used. Unlimited Adventures are using the same kind of graphics as the game from 1992 and after which in my opinion makes Unlimited Adventures better as well.

You can create pretty much everything in the game, which means you can't just create a game within a few hours. It will take a lot of knowledge, skill, time and of course creativity. You can decide on how the dungeons should look like, what kind of creature that should be at certain spots, how good they are and much more. You can also add text to describe a dungeon as an example just like seen in games like Champions of Krynn, Curse of the Azure Bonds etc. Further more you can test the game you are making all the time so you can discover possible errors you might have made or just see if you need to make some changes.

If you do a search for "FRUA" on almost any larger search engine you will find a great amount of sites dedicated to Unlimited Adventures. Not only will you be able to get help creating your own game you can also find new pictures, scenarios and a lot of other goodies you can use to make your own game better. Finally you can also try and play the pre-made games included with Unlimited Adventures. They aren't that big but at least you can get an idea of what you can actually make with the program. This is a must to have if you would like to try and create your own roleplay game.

Review 2:

Not really a game this one. It's an RPG-Maker. Feel creative today? This editor is very comfortable, you can create a whole new adventure and it looks just like one of the newer (= better looking) SSI-Games. A Demo-Game is included, so you there's at least a little bit to play here. The best program of that kind I've come across...

Review 3:

MobyGames' description for this "RPG construction kit" from SSI says it all: "...For those who enjoyed SSI's AD&D "gold box" series, Unlimited Adventures allows you to create your own similar games. Monsters, characters, and graphics from the Forgotten Realms series (e.g. Pools of Darkness) are included. There are but a few general elements needed for a game, including maps and events. The full game engine is of course an integral part. A tutorial and a full-featured mini-adventure game are included to get you started." If you love Gold Box games and have the patience to create one of your own, Unlimited Adventures is what you are looking for.
Download full game now: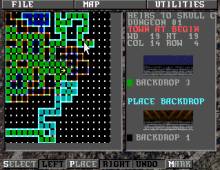 Unlimited Adventures screenshot
People who downloaded this game have also downloaded:
Pool of Radiance, Curse of the Azure Bonds, Pools of Darkness, Secret of the Silver Blades, Eye of The Beholder 2