Game Downloads
You're located in category:
Secret of the Silver Blades
Review 1:

In the annals of RPG gaming, few series can boast of being "pioneers" of the genre more than SSI with its "Gold Box" series, all based on AD&D mechanics and worlds licensed from TSR. Of these, four games set in the "Forgotten Realms" world stand out as the best of the bunch. Comprising four games released over four years, Pool of Radiance, Curse of the Azure Bonds, Secret of the Silver Blades, and Pools of Darkness remain a lot of fun even today as some of the most addictive - albeit maddeningly combat-ridden - RPGs ever created. Pools of Radiance and Pools of Darkness are my most favorite of the series. Pool of Radiance because it was a great beginning to a solid RPG system, and Pools of Darkness because it gives you a chance to meet famous NPCs from AD&D world, marvel at the non-linear storyline, and develop your heroes to very high levels. All four games are must-haves for RPG fans everywhere, although Secret of the Silver Blades is a disappointment compared to the rest.

GameSpot's nice History of AD&D gives a good overview of Secret of the Silver Blades as follows: "Secret of the Silver Blades, released in 1990, was the third installment in the Pool of Radiance saga. The game took place away from Phlan and the Dalelands; unfolding instead deep in the heart of the wintry Dragonspine Mountains. The player found his party summoned to a tiny mining town by the power of a mystical magic well to battle a great menace. A mysterious cult of spellcasters called The Black Circle has been hard at work reviving a powerful and evil lich known as the Dreadlord. It's up to the members of the party to seek what few members of the Dreadlord's sworn enemies, the Silver Blades, still exist, and ultimately take up the banner of the Silver Blades as their own in battle against the Dreadlord and his Black Circle minions.

Secret of the Silver Blades stayed true to its predecessors in the series, offering much in the way of expansion on the old and little in the way of brand-new material. Characters were allowed to advance to 15th level (18th in the case of thieves) and clerics and magic-users were allowed access to spells of up to seventh level."

Review 2:

Secret of the Silver Blades is the third in a four-part series of Forgotten Realms Dungeons & Dragons "gold box" adventure computer games. The party's objective is to adventure through the mountain region near Verdigris, entering areas such as the ruins of Old Verdigris, the Well of Knowledge, the mines, the crevasses, and eventually to the Dreadlord's castle. The party will face off against an evil group of humans called the Black Circle, many kinds of monsters in the mines and crevasses...
Download full game now: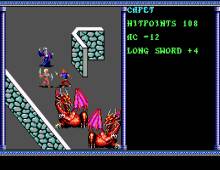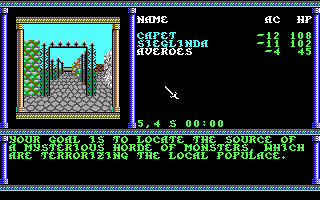 Secret of the Silver Blades screenshots
People who downloaded this game have also downloaded:
Pools of Darkness, Curse of the Azure Bonds, Pool of Radiance, Champions of Krynn, Treasures of the Savage Frontier