Game Downloads
You're located in category:
Tower of Souls
Tower of Souls is an uninspired Diablo-style isometric RPG, released as shareware years before Westwood released that blockbuster action/RPG that popularized the genre.

The Amiga version of Tower of Souls was better known than this PC port, and received some recognition in gaming publications as one of the first isometric action RPGs for that platform.

Although cross-genre, isometric games were introduced years earlier by pioneers such as Ultimate Play the Game (Knight Lore, Sabre Wulf) and Bitmap Brothers (Cadaver games), Tower of Souls has many elements that are quite unique and new to the RPG genre, including an arcade-style lockpicking interface (although the one in Hillsfar was far more elegant) for both traditional locks and combination locks. The game offers a huge dungeon to explore, dozens of spells, herbs, and weapons. If you like Diablo, you will likely find Tower of Souls to be a better-than-average action-style hack 'n slash that will keep you interested for at least a few hours.
Download full game now: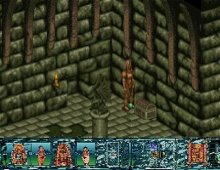 Tower of Souls screenshot
People who downloaded this game have also downloaded:
Shadow of Power, Spirit Engine, The, Knights of Legend, Summoning, The, Shadowcaster