Game Downloads
You're located in category:
Shadowcaster
Shadowcaster is one of the most unique and addictive action/RPGs ever made, although it sadly never got the attention it deserves from the gaming public who were too focused on id's blockbuster Doom to play any other game [EG]. The plot is intriguing fantasy fare, which helps set the stage as well as explain gameplay features. You are Kirt, one of the last shapeshifters on earth. As the game begins, you learn from your grandfather that your race, the shapeshifters, was almost killed off in a massive civil war centuries ago. Because this war displeased the gods, the gift of "morphing" was taken away and "The People," as they were called, began a slow decline into ruin. One god however had mercy on "The People" and declared that if they would keep watch against the return of evil (called Veste), they would once again be given the gift of morphing. Just as grandpa is finishing his story, Veste's minion shows up and snatches him away. But not before he ports Kirt into the world of Shadowcaster to fight his way back to his Pop and restore "The People" to their former heritage.

Wolfenstein-3D meets Ultima Underworld is a fairly accurate description of gameplay: 3D action mixed with RPG elements and puzzle solving. The best innovation in this game is easily the ability to "morph" into 7 different shapes, each with its own abilities and weaknesses. The shapes range from Maorin, a 6-legged cat that can claw and see in the infrared, to Opsis, a floating eyeball who is physically weak but can cast many powerful spells, to Kahpa the frog man and even SSair the fire dragon. You start out with Kirt who can kick, jump, and punch. He is also the only form in which you can regenerate "power," which is the manna that you need to be able to cast spells, morph, and to stay in any other form besides human. The absolute necessity of manna adds a fun element of strategic planning, since you must return to Kirt form once in a while to regenerate. So if you are currently a Kahpa (frog), you need to plan where and when to go ashore to become Kirt again.

The puzzles are a lot of fun to solve, especially since they are not so much quests for items, as they are about finding out what to do with the items you already have, and what form you have to morph into to accomplish the goals. For example, one puzzle involves finding 4 statue heads to put on a sculpture so you could go onto the next level. To reach some of these heads require morphing into different forms, either to navigate (e.g. swim or fly over pits) or to dispose of the enemies. Speaking of enemies, Shadowcaster features typical AD&D monsters as well as original ones that must be killed in a certain way. The mouse/keyboard-combined interface is very user friendly and can even be custom-arranged to suit your preferences (e.g. where you want the icons placed). The automapping was more than adequate, though it unfortunately doesn't allow annotation.

The game is quite easily one of the most inventive and addictive 3D games you'll ever play. Experiencing the environment as the different elementals alone is well worth playing, since each shape has different height and moves at different rates. The floating eye floats forward at frustrating speed while the "little person" whizzes along, actually going thru gorey corpses that you have already slain (since he's so short). These difference greatly increases the game's replayability, even though most puzzles have only one solution and the game is quite linear. A must play for all action fans, and RPGers who aren't afraid of real-time combat.
Download full game now: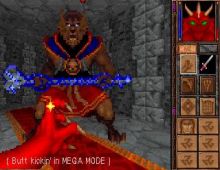 Shadowcaster screenshot
People who downloaded this game have also downloaded:
Lands of Lore: The Throne of Chaos, System Shock 2, Zelda Classic, Betrayal At Krondor, Ultima IV: Quest of The Avatar VGA