Game Downloads
You're located in category:
Lords of Doom
A potentially good horror RPG that unfortunately fumbled, Lords of Doom from Attic/StarByte looks, feels, and plays like a second-rate "B" horror movie than Alfred Hitchcock classic. You control a party of four characters-- two hapless citizens and two vampire hunters-- who are the last human survivors in the town of Vertic that has been overrun by evil minions of the hordes of darkness. Your job, naturally, is to fight hideous monsters, find the lairs of four unholy lords, and vanquish them from the land.

Gameplay is standard first-person perspective, with party members displayed in four portraits at the bottom.of the screen. In addition to health bar, each character has a food and thirst level bars which you must take care to fill by having the character eat or drink. This might add a fun touch of realism to the game (similar to Dungeon Master), but unfortunately the extreme lack of food and water makes gameplay very frustrating. Worst yet, each character only has 6 inventory slots, so saving a ton of food for later consumption is out of the question.

The game does offer some find-key-to-unlock-door puzzles, but the endless hordes of monsters (most of which look the same) makes playing an exercise in frustration. Overall, Lords of Doom is a huge disappointment... a game that promises a lot but ends up being only a bland RPG. Only the most die-hard horror RPG fans might be interested in this one.
Download full game now: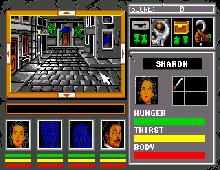 Lords of Doom screenshot
People who downloaded this game have also downloaded:
Legend of Valour, Nahlakh, Light in The Darkness, Lord of The Rings 2: Two Towers, Lands of Lore: The Throne of Chaos