Game Downloads
You're located in category:
Leygref's Castle
Leygref's Castle is a fun, unassuming Roguelike RPG that deserves to be much better known. In this game, you will explore one of the largest gaming worlds in history - a castle with 512 rooms. But to make things easier, the castle is structured as a perfect cube, with 8 by 8 rooms on each of its 8 floors.

Unlike most other Roguelikes, the gameplay in Leygref's Castle is very easy to get into. After selecting your stats and initial equipment, you will be free to explore the castle. Every time you enter a room, you will encounter either a monster, an item, or a merchant. If you like the original Rogue, you will likely find this game a charming little gem that offers simplified gameplay that actually works - although in my opinion quite impossible to beat :) Recommended, especially to anyone who likes to play a quick and dirty Roguelike once in a while.
Download full game now: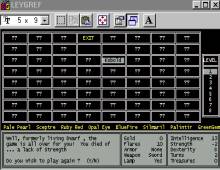 Leygref's Castle screenshots
People who downloaded this game have also downloaded:
Legacy of The Ancients, Legends of Murder, Moonstone, Legend of the Silver Talisman, Castle of the Winds