Game Downloads
You're located in category:
Legacy of The Ancients
A classic RPG from Electronic Arts, this game became an instant classic once it was released on the Commodore 64. One of the best "solo" RPG ever, everything in this game is flawlessly implemented, from the combat module down to the entertaining casino in towns. I daresay this is the best CGA RPG ever made :) Too bad its sequel Legacy of Blacksilver was never converted to the PC, although its cousin Questron 2 was.
Download full game now: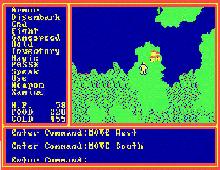 Legacy of The Ancients screenshot
People who downloaded this game have also downloaded:
Questron 2, Pool of Radiance, Ultima IV: Quest of The Avatar VGA, Curse of the Azure Bonds, Knights of Legend