Game Downloads
You're located in category:
Anvil Of Dawn
Review 1:

Anvil of Dawn is a roleplay game that has never received the interest it has deserved - at least in my opinion. The game is very similar to another roleplay game called Stonekeep that is also more known than this game.

You start the game by selection one of four different characters. Each has their own abilities that you can view before you make your choice. While the story line hasn't completely been set for each character it's very close but if you decide to play with another character at a later time you will notice the game does change a bit. A very nice idea and another great idea is that you are able to meet the characters that you didn't select at some point in the game.

The graphics in Anvil of Dawn is a bit disappointing though since they are often very blurry and it makes it harder to recognize different things in the game as well as making the game a little bit annoying to play. I actually think I would have preferred less development on the graphics (which means more simple graphics) and then a bit more focus on the game engine. The game engine, interface and game plot are all great though and you will be able to use many hours on the game especially because different stories are included unlike other games like Lands of Lore, Stonekeep etc. Another quality game from Dreamforge Entertainment.

Review 2:

Definitely a "return to form" for Dreamforge after a string of disappointing RPGs, Anvil of Dawn is an RPG masterpiece that's sadly ignored despite winning CGW's "RPG of the Year" award. In this first-person solo RPG, your mission is to find the source of evil warlock's power and cast it into the magical anvil. As with earlier DreamForge adventure/RPG offerings, Anvil of Dawn is not ground-breaking but will slowly draw you in with excellent writing and gameplay. The ability to meet up with the other four characters you didn't pick, and alternate endings for each character is a nice touch that add much replayability to this already solid RPG.

Without a doubt, this is one of the most underrated RPGs ever made-- and arguably a better RPG than Interplay's overhyped Stonekeep.
Download full game now: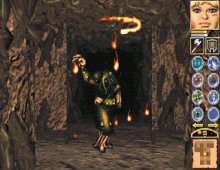 Anvil Of Dawn screenshot
People who downloaded this game have also downloaded:
Betrayal At Krondor, Lands of Lore: The Throne of Chaos, Blood Omen: Legacy of Kain, Albion, Amulets & Armor