Game Downloads
You're located in category:
Museum Madness
One of the best releases from MECC, Museum Madness is a great educational title that will help kids ages 12 and above hone their knowledge of science and history, as well as problem-solving skills, in an attractive inventory-based adventure setting. The plot: someone has sneaked into the town's musuem, and put all the exhibits out of order. It's up to you to restore them, and solve the mystery.

Gameplay is virtually identical to traditional point-and-click adventure games, only simpler: there is only one possible action for each object/person in the room, and the mouse cursor changes shape to signify what you can do. While there are many puzzles that require items from the inventory, they are pretty straightforward (similar to Sierra's Castle of Dr. Brain), since the emphasis here is on learning. Each of the game's 25 exhibits is chock full of items to interact with, problems to solve, and riddles to answer. A wide variety of subjects is covered here, from astronomy, to mechanics, to world history. New exhibits present new challenges and puzzle types, and you can visit them in any order, so the game never feels repetitive. MICK, the museum's robot who accompanies you everywhere, is always eager to give advice and gentle hints if you need them. There are also other user-friendly features, such as the museum map which you can use for quick navigation, and automatic save function.

Overall, Museum Madness is a fun, well-written educational adventure with a surprising depth and range of topics. The only major gripe I have with the game is the unnecessary, boring first stage, where you must navigate a small maze of empty storerooms to find card keys that will eventually unlock doors to the museum proper. The maze is not big, but can frustrate young adventurers-- the game's target audience, in other words. I highly recommend that you perservere, though, because the game gets much, much better after you make it inside. Highly recommended!
Download full game now: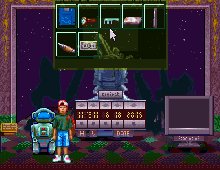 Museum Madness screenshot
People who downloaded this game have also downloaded:
Secret Island of Dr. Quandary, The, Amazon Trail, The, Where in Time is Carmen Sandiego?, Where in The World is Carmen Sandiego? Deluxe Edition, Where in The USA is Carmen Sandiego? Deluxe Edition