Game Downloads
You're located in category:
Secret Island of Dr. Quandary, The
One of the quirkiest edutainment titles ever made, The Secret Island of Dr. Quandary is a fun educational adventure game for kids ages 8 and up. The plot is a wacky combination of science and superstition: while playing a carnival game at a mysterious circus, you are sucked into a carnival doll by the evil Dr. Quandary. To escape the toy's body, you must beat Dr. Quandary at his own game by solving the myriad of puzzles on his island.

Gameplay is similar to Sierra's classic Castle of Dr. Brain: inventory-based adventure game with educational bent to most puzzles. The quality of the puzzles varies widely, though-- some, such as Acid Test, purely are arcade mini-games with very little "education" content, while others (such as "programming" a frog to get through a gate, and algebra-related puzzls) are very well implemented. The game as a whole is arguably a bit inferior to Museum Madness, MECC's other adventure game for kids, but the photorealistic backgrounds and wide variety of puzzles should keep kids entertained for days on end. Ironically, the funny witty and sarcastic dialogue had to be toned down for the school version of this game :) Recommended.
Download full game now: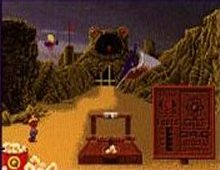 Secret Island of Dr. Quandary, The screenshot
People who downloaded this game have also downloaded:
Oregon Trail Deluxe, Amazon Trail, The, Museum Madness, Where in The World is Carmen Sandiego? Deluxe Edition, Where in The USA is Carmen Sandiego? Deluxe Edition