Game Downloads
You're located in category:
Oregon Trail Deluxe
Review 1:

Probably the least known entry in MECC's famous Oregon Trail series that is now up to the fourth edition, Oregon Trail Deluxe is a solid VGA remake of the 1988 original Oregon Trail release that set new standards in edutainment. Notable for being the last floppy-based release of this series, Oregon Trail Deluxe is great to look at and a lot of fun to play.

As in the original game, Oregon Trail Deluxe puts you in the year 1848 as the Gold Rush was in full swing. Your goal: emigrate from the US' East Coast to Oregon in the West before winter sets in. After deciding which occupation your alter ego has, you will plan for a long journey by buying food, spare wagon wheels, bullets, mules, and other necessities. There are many factors to take into account while you are on the road. Pushing your animals too hard can cause them to collapse from exhaustion. From time to time, the game will offer you a choice between two or more routes to take, each with its own advantages and disadvantages. Tough decisions like these are half the fun of Oregon Trail, and what makes the game varied and interesting. To liven up your journey, you will pass several notable monuments along the way, each with a short but concise description and/or history.

As in the first game, there several arcade-style mini-games, including hunting and fishing. And there are more opportunities to talk to and trade with other pioneers this time around. The on-line help is always available to give you hints throughout the game, and Oregon Trail Deluxe comes complete with comprehensive historical reference about objects, people, and places. Overall, this last floppy version of the game is a very nice update to the original edutainment classic, and arguably the best version before MECC went down the "multimedia extravaganza" route, releasing Oregon Trail II and subsequent entries on CD-ROM that focus more on form than content.

Review 2:

Offering adventure, educational, role-playing (rpg), strategy, simulation in a world of history, managerial, real-time, Oregon Trail Deluxe is an abandonware developed by MECC and published by MECC. Released in 1992, you wander around in a perspective.

The Oregon Trail, well known road crossing the Rocky Mountains used by the settlers in the 19th century.

MECC made an educational game based on this memorable part on the USA story. The player must cross the oregon trail and fight against the difficulties the settlers had. Hunting for food, trading supplies, survive LOTS of possible deaths (snakes, typhoid, dysentry...).

Should you succeed in your journey, your points will be based on your profession, the number of settlers still alive, your remaining cash and much more.

Oregon Trail was played by a lot of American people born in the eighties and the game stay into memory as one hard, unforgiving and unbeatable game. Some family would eventually play the game together and children in school would even make competition over who got the farthest before dying in the game!
Download full game now: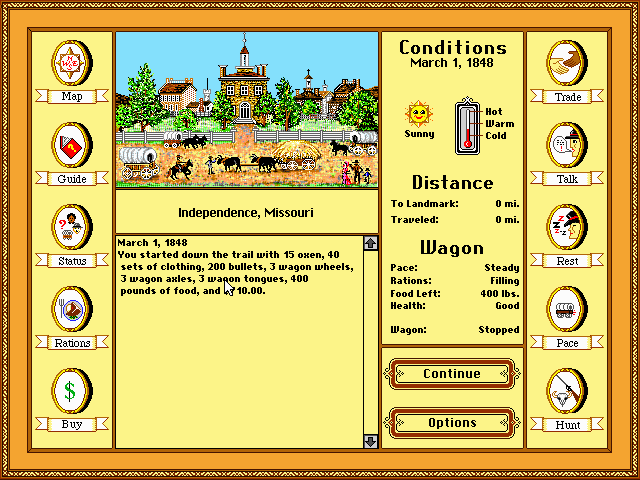 Oregon Trail Deluxe screenshot
People who downloaded this game have also downloaded:
Amazon Trail, The, Where in The World is Carmen Sandiego? Deluxe Edition, Where in The USA is Carmen Sandiego? Deluxe Edition, Number Munchers, Where in Time is Carmen Sandiego?