Game Downloads
You're located in category:
Headline Harry and The Great Paper Race
Perhaps best described as "Carmen Sandiego for adults," Headline Harry and The Greatest Paper Race is an excellent edutainment game that puts you in a role of Harry, a veteran journalist who must conduct interviews and gather clues to find the what, where, how, and when of tomorrow's biggest news.

Headline Harry was praised roundly by most computer game magazines when it came out (a few, such as PC Games, even called it "more educational and entertaining than Carmen Sandiego), but unfortunately it never sold as well... perhaps owing to Davidson's less aggressive marketing campaign. Competition in the form of Harry's rival newspaper and more obscure clues makes this a more difficult game than Carmen, but the headlines will make you laugh, and the clues are mostly amusing when they're not unintelligible. Recommended for any adult who wonders how much fun learning US geography can be, but wants a more challenging game than Carmen series.
Download full game now: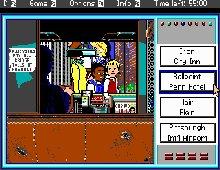 Headline Harry and The Great Paper Race screenshot
People who downloaded this game have also downloaded:
Where in The USA is Carmen Sandiego? Deluxe Edition, Where in The World is Carmen Sandiego? Deluxe Edition, Eagle Eye Mysteries, Amazon Trail, The, Museum Madness