Game Downloads
You're located in category:
Eagle Eye Mysteries
One of the best edutainment titles ever that both kids and adults will enjoy, Eagle Eye Mysteries is a fun detective game released under the now-defunct "EA*Kids" label. The game stars young detectives Jake and Jennifer of the Eagle Eye Detective Agency. You can choose to pair with either Jennifer or Jake to solve crimes in Richview, searching for clues and questioning witnesses. There are over 50 cases, ranging from missing items to "Case of the Ghostly Ghost." To bring the culprits to justice, players use their detective's notebook to prove the case through motive, means, and opportunity. In each engaging mystery, children hone their reading comprehension and problem-solving skills, while picking up science and history facts along the way. With the cases progressively harder to solve, the children's interest is always held and upon the successful completion, positive reinforcement is doled out appropriately by printing the detective's name and your solved crimes in a scrapbook that can be saved and viewed at any time.

Even years after its release, this game and its sequel Eagle Eye Mysteries in London remains high on many schools' lists of recommended CD-ROM products. If any edutainment title deserves to be called "classic," this is it.
Download full game now: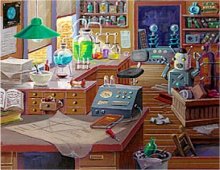 Eagle Eye Mysteries screenshot
People who downloaded this game have also downloaded:
Eagle Eye Mysteries in London, Where in The World is Carmen Sandiego? Deluxe Edition, Where in The USA is Carmen Sandiego? Deluxe Edition, Amazon Trail, The, Where in Time is Carmen Sandiego?