Game Downloads
You're located in category:
Tubular Worlds
Review 1:

Definitely one of the most underrated action games of all times. It was made by Dongleware, a pretty much unknown German software company and maybe that's why it never had some success.

It is a typical side scrolling shooter for one or two players, but with plenty of large levels and weapon types it guarantees you hours of great fun. If you liked Raptor, Raiden or Xenon you will most definitely enjoy in Tubular Worlds.

Review 2:

One of the most popular game genres in the late 80' and the early 90's so a bit unusual to see this kind of game made in 1994. Tubular Worlds doesn't offer anything new and in my opinion it looks like Dongleware was a bit too late with getting this game published since they missed the general game market with a few years.

Apart from that Tubular Worlds is a well developed game offering the usual side scroller interface where the entire goal in the game is to shoot up as many enemies as possible. The more you shoot the better your spaceship gets. You can get better weapons, faster movement and other great improvements. The game consists of many different enemies and also multiple levels so there are many hours of game play.

Overall a nice side scroller but both the graphics and sound could have been better considering the age of this game. Of course this is not the most important in a game and the developers have programmed with this on their mind.

Review 3:

Tubular Worlds is a fairly popular shareware side-scrolling shooter that unfortunately is never well-known in the United States. The game features veriety of weapons and enemies in 4 different episodes totalling 16 levels. As the official page describes the plot: "You play the role of a senior cadet at the country's elite school for fighter pilots. Your final exam involves flying the gauntlet of four virtual cyber worlds and destroying the Warlords encountered there. Be warned! At the end of each combat segment a very powerful Warlord will be waiting for you!" Banal, surely, but a plot isn't what great shooters are made of, and fortunately Tubular Worlds is no exception.

Gameplay is definitely a cut above average shooters, which is a pleasant surprise given that it was marketed as a shareware title. The game sports very good graphics, excellent controls, nice sound effects and overall good level design. Weapons come in a wide variety, and you can even configure them (as opposed to new powerups overriding whichever weapon you were using before). The game is a bit repetitive in mid-game, though, and your ship can die from a single shot (from a powerful enemy). Still, there's enough to please shooter fans here that makes Tubular Worlds well worth a look.
Download full game now: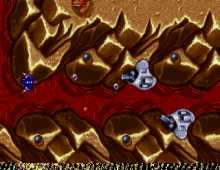 Tubular Worlds screenshot
People who downloaded this game have also downloaded:
Shooting Heart, Tyrian 2000, Shufflepuck Cafe, Trolls, Stardust