Game Downloads
You're located in category:
Shufflepuck Cafe
Review 1:

Can't help myself - I just love this game. Overall this is not a very overwhelming concept. Just the possibility to play this Pong-like game (you might have seen those tables in your local gaming hall) against several computer opponents. You can even play a tournament. Now all this wouldn't be that fantastic if it weren't for those different characters you play against. They don't just look different and are slower/faster. No, they all got their weak points. It seems like you can get some while just trying to play mostly on the right (or left) side because they can't see the puck very good there. It's just a theory, but in years of playing this on my Amiga I got quite some experience and it really seems like Eneg is pretty good on the left side (his right side), but is more likely to make mistakes if you give him some fast ones on the right side (his left...).

The game can get quite addictive and playing this with the mouse is quite "realistic". It's a nice fun-game you shouldn't miss. The reactions of the opponents are funny to watch as well. Although it's only EGA - still not bad (Amiga was better of course).

Review 2:

A great classic air hockey game, probably better known on the Amiga and Macintosh. The game principle is simple: it's futuristic air-hockey controlled with the mouse. What I like most about it is the obvious love that has gone into the design of the setting and the various opponents. Each opponent really has his/her own style of play to which you can adjust your strategies to win. Very nice. However, as usual the PC conversion is lacking a bit in terms of atmosphere as graphics and music are not quite up to the Amiga standards - but still a fun game. Highly recommended, especially to air hockey fans.
Download full game now: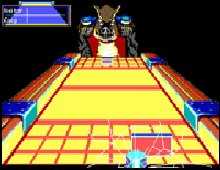 Shufflepuck Cafe screenshot
People who downloaded this game have also downloaded:
Golden Axe, Tintin in Tibet, Tanks 3D, Xenon 2