Game Downloads
You're located in category:
Starball
Starball is an interesting and unique pinball game from GameTek that unfortunately doesn't play as well as it sounds. Based on Starball Special Edition game on Atari ST, the premise is unique to say the least: in addition to the basic pinball table, the game lets you blow up asteroids, shoot aliens, and head for the spaceport a the top of the table where you can score bonus points.

The main pinball table consists of 3 main levels, each with its own pair of flippers. If your ball falls between the flippers, it will drop to a lower level. When the ball drops all the way to the bottom, you will lose a life. As MobyGames description points out, "each part of the table has its own quirks, secrets and purpose (for example, in the middle section you build a spaceship and have to protect it from two missile-firing guns on the right. There are also hidden, or secret, stages in the game: one is an "egg" with four parts you have to crack, another is a breakout clone only with pinball mechanics and another is a bizarre "Doom pinball". There's also the ultra-secret (and very hard to get to) Llama pinball game."

Unfortunately for all its innovations, Starball suffers from inferior ball physics and graphics compared to classics in the genre such as Pro Pinball series. Finding out hidden stages and accomplishing minor goals on the table are fun, but once you have seen them once, there is little reason to see them again. Overall, a unique pinball game that isn't as good the second time around.
Download full game now: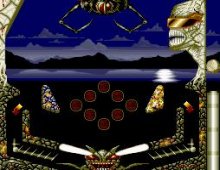 Starball screenshot
People who downloaded this game have also downloaded:
Psycho Pinball, Pinball Prelude, Silverball Plus 2, Pinball 4000 (a.k.a. Expert Pinball 4000), Eight Ball Deluxe