Game Downloads
You're located in category:
Space Dude
Space Dude is a funny and quirky action game from FormGen. Billed as "an interactive animated motion picture where you control the action", it is really a loop of mini games tied together by cut-scenes to advance the story. The story: the evil King Dorf has kidnapped the princess and his mechanical Hopper Attack Force are attacking the Golden City. It's up to you to help Space Dude (a hero who looks like Mr. Potato Head on a surfboard) to rescue the princess and save the kingdom. You can do this in three ways: building defensive bases from which to keep the Hoppers at bay, confronting the Hoppers directly, or taking the fight to King Dorf himself. The game ends when you finally succeed in defeating King Dorf.

Whatever action you decide to take, you have to travel to your destination point. During this time, you will enter an "interactive sequence" where you usually have to avoid the obstacles King Dorf or Mother Nature may have set against you. Once you've arrived, you will enter into another "interactive sequence" where you have to destroy the bad guys in whatever shape or form they take. Since there are about a dozen variations of both types of "interactive sequences", gameplay appears to be very dynamic. This means you will get to play different interactive sequences even if you try to perform the same action repeatedly. This adds a lot of variety to the game, even though it has essentially only two kinds of gameplay: the shoot'em-up, and an avoid-the-obstacles episodes.

Graphics-wise, the game is quite badly pixellated, although the cut-scenes are much better. The backstory is also entirely superfluous, although funny in places. All in all, though, Space Dude has enough wacky sense of humor and gameplay to keep action gamers interested. It takes a while to get used the controls and figure out what's required in each scenario, but once you get the hang of the game, it becomes quite enjoyable. If you like Wacky Funsters or similarly zany action games, you'll have a lot of fun with this old game.
Download full game now: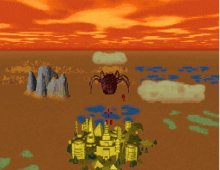 Space Dude screenshot
People who downloaded this game have also downloaded:
Marathon 2: Durandal, NemesisCrisis: Operation Gallant Thunder, Metal Gear Solid, Squeezils, Kingpin: Life of Crime