Game Downloads
You're located in category:
Roketz
Roketz is a great multiplayer space combat game from Bluemoon Interactive, makers of celebrated classic Skyroads. First released as shareware for the Amiga, the game is notable for the excellent balance between playability and realism (i.e. gravity physics). The official description says it all:

"Roketz was a 360 degree scrolling shooter featuring gravity environment and thrust-and-turn gameplay similar to the likes of Thrust, Virus, and SubSpace. Just like the latter, Roketz was an excellent multiplayer game. The fast paced dogfights quaranteed high levels of adrenaline for countless hours." The game boasts very nice ray-traced graphics and a wide variety of weapons to choose from. The gameplay itself is simple: after equipping your "roket" with various weapons and upgrades, you are transported to a battleground where you can race the marked track for best results and/or shoot down your opponent, which can be either your friend (split screen action) or computer-controlled adversary. The winner is the last one to survive.

Each battleground has different obstacles: gun turrets, pulsating force fields, etc. And of course, gravitational force constantly drags you down, so you will need both precise piloting skills and reflexes to succeed. The locations are nicely varied, although most of the action takes place in old production facilities rather than open space (making the game more challenging because you have to avoid colliding into walls and other "background" graphics). Overall, if you enjoy classics like Thrust or Gravity Force, Roketz is well worth your time.
Download full game now: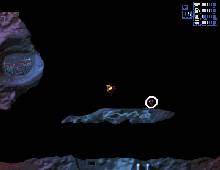 Roketz screenshot
People who downloaded this game have also downloaded:
Frenetic Plus, Dif-2 Mirage Thunder, No Gravity, J-Dar-II, Ravage