Game Downloads
You're located in category:
Road Fighter
Review 1:

Road Fighter is a fun, early top-down racer from Konami based on the hit arcade game of the same name. The game's simplicity belies its addictiveness: drive your car as fast as you can along devious tracks, passing other cars and avoiding accidents for maximum points. You must reach check points before running out of fuel.

One of the game's attractive features is the nice backdrops: you will race on roads that cut through cities, coastlines, and rugged terrain along the way. Although the gameplay is very simple, Road Fighter includes plenty of fun bonuses that make Konami games a lot of fun: these include fuel cars that appear to refuel your car and special items that give you bonus points when you run into them, such as Super (Konami) Man, trains, a jet, and the Konami Mole. Smooth animations and excellent player control round off another arcade classic that will keep you enthralled for hours.

Note: the game was never made for PC. This download is the MSX version recompiled to work in DOS with no emulator required.

Review 2:

In this great game you have to race a few stages. You may not touch any cars. If you do you will crash and lose lots of fuel. You must watch ouf for your fuel. You may not get out of fuel. The pink cars will try to stop you.
Download full game now: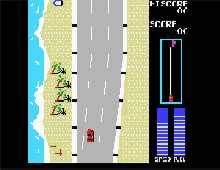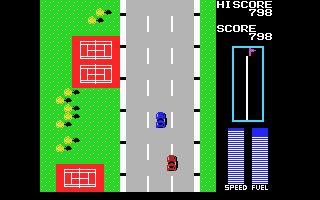 Road Fighter screenshots
People who downloaded this game have also downloaded:
Galaxian, K1 Tank, Smokin' Guns, Dif-2 Mirage Thunder, No Gravity