Game Downloads
You're located in category:
Smokin' Guns
Smokin' Guns is a simple shooting gallery for Windows 3.1 with a surprising depth and variety. As the game states: "you are the law in Gangsterland-- take on the crime lord and clear the streets of his cronies. Defend the control room against renegade android raiders in Neptune Six. Survive through a night at the House on the Hill. . . or become a permanent resident."

There are six scenes you can choose (ranging from traditional saloon shootout, to provincial airport and beyond), over 36 guns and 100 target types, and many more options, including the ability to change the shape of your gun cursor. Each gun has its own recoil strength and ammo capacity, both of which are quite realistically portrayed. For example, it is much more difficult to quickly shoot multiple targets in a row with guns that have a high recoil rate, since the target cursor will "jump" wildly after every shot (to simulate recoil effect).

With a good variety of locales and targets, many options, and surprises in every level, Smokin' Guns is a pleasant shooting gallery that is well above average. The crudely-drawn characters might disappoint anyone looking for a "realistic" 3D shooter, but the game packs more than enough gameplay to compensate for inferior graphics. You'll be playing this charming little game long after Mad Dog McCree is over.
Download full game now: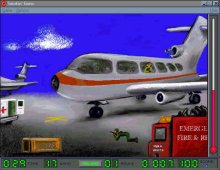 Smokin' Guns screenshot
People who downloaded this game have also downloaded:
Classic Arcade Games for Windows, House of the Dead 2, The, Kingpin: Life of Crime, Star Trek TNG: Klingon Honor Guard, PacManWorlds