Game Downloads
You're located in category:
Rapanui
Rapanui is a simple Arkanoid clone for Windows, a sequel to an earlier game called Dionakra from the same developer. The idea, like all other Breakout games, is to move the pad to bounce the ball off it to destroy the bricks on the screen. You can collect bonus items such as pad lenghtening, faster ball, level jump, and many others. There are over 50 levels in the game, although they seem repetitive after a while.

Neither the gameplay nor graphics makes Rapanui stand out from dozens of other Breakout titles. What makes it better than average is the inclusion of a well-designed level editor you can use to create your own levels. But if you want a truly good Breakout game, play Krypton Egg or Crystal Hammer instead of this average game.
Download full game now: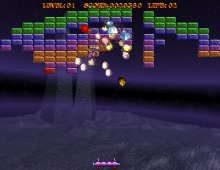 Rapanui screenshot
People who downloaded this game have also downloaded:
Powball, Quarantine 2: Road Warrior, Ravage, Crystal Hammer, Last Defender