Game Downloads
You're located in category:
Powball
Powball is one of the best Breakout clones I have ever seen, freeware or otherwise. The game introduces a lot of fun elements to the paddle-and-ball formula, including a simultaneous 2 player mode, silky-smooth graphics that boasts over 2000 frames of animation, great sound effects, over 130 game levels, and a cool level editor.

Gameplay is simple: bounce the ball on your paddle to explode the blocks to unleash gems, bombs and power-ups. Clear the screen to go to the next level up. Between levels, the game switches to a cool vertical shooter mini-game where you have to quick shoot rocks that fall from the sky to get bonus items. In addition to the challenge of keeping the ball afloat, you have to contend with other obstacles, such as enemy floaters that try to interrupt your winning streak. The power-up items are very neat - my favorite is the Super Powball that crashes through and exploding the blocks in its path.

The best new feature in Powball is the fact that you can buy some weapons and ammo in weapon shops with money from the crystals you have collected. Weapons include plasma gun, vulcan cannon, and even a grenade launcher that help dispose annoying floaters. The two-player mode is a lot of fun, and you can change difficulty level in single-player mode. The action is intense most of the time?before long, you will see dozens of balls on the screen, blue gems raining down everywhere around you, and loud, gigantic explosions of blocks in powball's path. That's when you will realize you are having fun, and that you will come back for more knuckle-blistering mayhem ;) Originally released as a shareware game published by WebFoot Technologies, Powball was made freeware in 2000, so there is really no excuse not to try this hugely underrated gem.
Download full game now: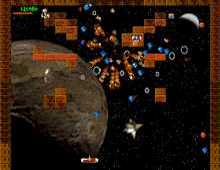 Powball screenshot
People who downloaded this game have also downloaded:
Pinball Illusions, Pinball Fantasies, Raiden II, Mario Forever, Impossaball