Game Downloads
You're located in category:
Pyramids of Egypt, The
Review 1:

The Pyramids of Egypt is an exciting computer game that lets you guide Mike the Explorer through the treacherous confines of an Egyptian pyramid. You must avoid the cobras at all costs; try your best to avoid the doors which slow you down.

Your quest is to recover all the jewels from the different rooms in the pyramid. If you collect all the jewels from a room, an exit door will appear in the upper-right corner of the room. Go through this door to the next mysterious chamber in the pyramid. Cobras protect the jewels. You can kill the cobras with fire. Lighting a fire will cost you one can of gas (you have 10 to start with), and you can only light fires on dry bricks. This is a detail which many players find confusing at first. Let me elaborate. If a dry brick is to your immediate bottom-right or bottom-left (depending on which direction you wish to light a fire), and the space directly above the brick is vacant, you may light a fire.

Forget about perspective -- you must juggle your perspective in this game to stay alive. Just experiment with lighting fires on the first level. You can light fires while other fires are burning. Study the instruction screens to get a picture of the fire-lighting situation. With every level you complete, you get an extra life. You will need these extra lives. After you use up all your lives, type in your name to register your score and see if you beat the old score.

Review 2:

Although John Romero has become one of the most celebrated designers of all time, he didn't just start with Doom or, for that matter, Wolfenstein 3D. Back when id was a small operation, Romero designed excellent top-down action games for the "Big Blue Disk" publisher Softdisk. This game, where you collect diamonds and power-ups while avoiding snakes, showcases Romero's knack for creating incredibly addictive games.
Download full game now: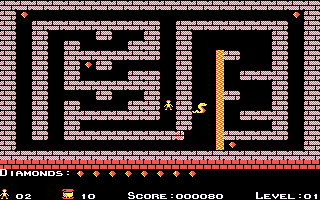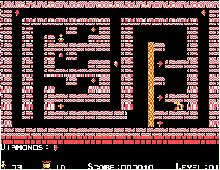 Pyramids of Egypt, The screenshots
People who downloaded this game have also downloaded:
Haunted House, Star Trek TNG: Klingon Honor Guard, Lunar Lander, Frogger, Prince of Persia 2: The Shadow and the Flame