Game Downloads
You're located in category:
Frogger
Review 1:

What a weird but at the same time ingenious game! Just good old arcade-style. You play a frog (you wouldn't have guessed!) and your task is to cross the street and the river to reach that delicious flys and have it for dinner. On the street you have to avoid the natural enemy of all frogs: cars! When you finally crossed that dangerous part and come to the river - where you of course feel a little more at home - you have to cross it by jumping logs and some animals I can't identify. Well, needless to say that those are moving (would be too easy otherwise, wouldn't it?), so you need some skill! All time classical game.

Review 2:

One of the well known games ever. This is one of the first official frogger games made for the PC. The point of the game is to get to the other side of the road without dying.

Review 3:

This classic arcade game was brought to DOS in 1983, two years after it was first invented. The game is simple: make it across the street without becoming road kill, then make it across the river onto one of five openings. Once all five spots are filled, you move on to the next level. The levels are all similar or at least the ones I have played in are. You have five lives and there is a time limit. A bar near the bottom of the screen that gets smaller and smaller indicates how much time you have left.
Download full game now: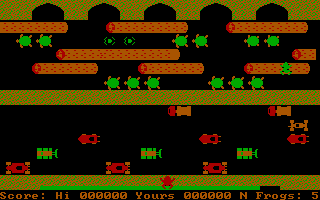 Frogger screenshot
People who downloaded this game have also downloaded:
Frogger II: Three Deep, Galaxian, Gauntlet