Game Downloads
You're located in category:
Project Paradise
Project Paradise is a fun cyberpunk/fantasy action/adventure game that unfortunately was never released outside Europe. The setting is similar to Bullfrog's more famous Syndicate: in a dark future, only one powerful syndicate rules the world. Both technologies and dark magic are used for nefarious purposes, plunging the world into chaos. And to make matters worse, an ultra-secret project code-named "Paradise" has the power to destroy the entire planet Earth. Your job, of course, is to stop it.

The game is best described as a furious action-fest (a la DOOM) mixed with fun adventure-style puzzles and strategy elements. It's similar to Raven's Take No Prisoners, but with more focus on the puzzles as you must utilize the skills of 3 different characters to succeed (sort of like EIDOS' recent classic Commando in a way). Even if the top-down perspective (based on "Real-Time-Spin" technology) does appear more than a little unusual and takes some time to get used to, the game's user interface is very smooth, with impressive graphics and complexity. The original game even shipped with a well-written novella that sets the stage. If you enjoy action games that require as much brainwork as reflexes to succeed, Project Paradise is well worth your time.
Download full game now: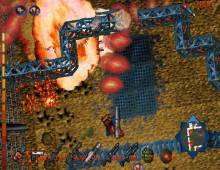 Project Paradise screenshot
People who downloaded this game have also downloaded:
Raiden II, G-Nome, General Chaos, No Gravity, Infestation (2000])