Game Downloads
You're located in category:
Night Breed: The Interactive Movie
Review 1:

The second and the last of the Night Breed Trilogy (the third one was never made), Night Breed: The Interactive Movie is an action game with some elements of an adventure. Pretty dumb game and no wonder Ocean stopped production of the third in the row...

Review 2:

Nightbreed: The Interactive Movie is the second game in OCEAN's planned trilogy of games based on Clive Barker's movie of the same name. This one is an action/adventure hybrid, and much worse than the first game in the series which was all action. Despite its billing as an action-adventure, Nightbreed: TIM is actually a fairly straightforward action game with a few pretenses of adventure game elements, e.g. choosing where to go next, and collecting a myriad of pointless items. A big disappointment after the (already so-so) first game, and not surprisingly sold very poorly. Disappointing sales of this game convinced OCEAN to abandon the idea of making a third game for the series, which was slated to be all-adventure game. Unfortunate, but nobody will miss it.
Download full game now: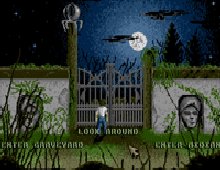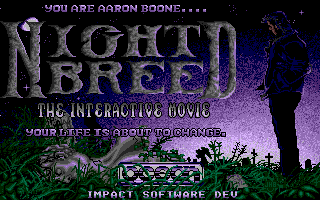 Night Breed: The Interactive Movie screenshots
People who downloaded this game have also downloaded:
Night Breed: The Action Game, House of the Dead 2, The, Home Alone, Killing Time, Nightmare Creatures