Game Downloads
You're located in category:
Mine Bombers
Mine Bombers is a fun action game designed for two or more players, although a single player mode is included. Think of it as two-player version of Bomberman and you'll have a good idea of what it's about. Basically your job is to blow up your opponent by using various weapons, while collecting treasures in the mine that will allow you to buy more destructive equipment. The player who has the most money at the end of the game is the winner. In addition to treasures, you are also awarded extra money with the number of "kills" you make. Although the playing field is huge (in 16-color 640x480 resolution), the downside is that the players look very tiny-- it took me a while to even find the tiny red blob that is my enemy! You'll soon get used to it, though, and after a while the game's excellent gameplay will draw you in. In addition to standard dynamites, you can use flamers and even nukes, which create satisfyingly huge explosions. Sounds effects, especially explosion sounds, deserve mention as something truly exceptional, considering this is a shareware (now released as freeware) title, and really add to the gaming experience.

Overall, if you enjoy games like Liero, give Mine Bombers a try. The single player mode is included, but it's not nearly as fun as the multiplayer mode, since all you have to do is avoid 15 levels filled with monsters. Once you finish the game, you can use a user-friendly level editor to make your own levels to extend the playability. Two thumbs up, way up!

Note: this download includes the official v3.11 freeware version, as well as 30 extra levels released separately on the official homepage.
Download full game now: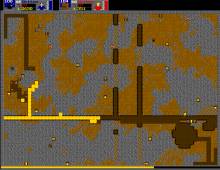 Mine Bombers screenshot
People who downloaded this game have also downloaded:
Giana Family, Rampart, Prince of Persia 2: The Shadow and the Flame, Tanks 3D, Stargate