Game Downloads
You're located in category:
Giana Family
Giana Family is a great PC version of the famous Rainbow Arts classic that never made it beyond the Commodore 64. Andreas Kahn has pulled off something very few people can do: create a PC conversion that is not only very faithful to original in looks and play, but also *improves* upon it with many new features.

For those who are not familiar with the original: Giana Sisters is an arcade/platform game starring Giana and Maria, a.k.a. the "Great Giana sisters." Now, these two young ladies jump around, collecting stars by running over them or knocking the head on special goody boxes (imagine the headache they must have when you get to level 20!) Some of these goody boxes contain special items that make it possible for the twisted sisters to break bricks with their skulls, or shoot the monsters instead of jumping on them, or all sorts of nice things. Now, this sounds familiar, doesn't it? Nintendo did think so, and therefore they forced the sisters off the market, so that everybody should run to the shop and buy their pack of superhyped Italian plummers instead. The game, unfortunately, was released too close to Mario Brothers to be allowed to compete with Nintendo's creation. The result is that only a few C64 gamers were able to experience the game, which in many people's opinion (including mine) is FAR superior to the Nintendo hit.

What makes Giana Sisters a lot of fun to play is what makes Mario Brothers a console hit. Great cartoony graphics, devious level design, great sound effects and "bosses," and best of all: numerous "extra" secrets that are only revealed for those playing the game an excessive number of times (such as level warp boxes and hidden treasure chambers). Aside from featuring the exact same levels in Giana Sisters, Giana Family adds numerous features that makes it even better. These include: deathmatch with up to 16 players in LAN's or on the Internet, new levels and features (including floods), and an excellent GianaMap editor that allows you to create your own levels using Windows-based interface. In short, Giana Family not only brings the addictiveness of C64 classic to PC gamers, but also serves as a good example of how a PC conversion must be done. It ranks alongside Richard Jordan's uber-cool Klass of '99 as one of the best "remakes" ever, and is certainly one of the best platform games you'll ever play-- a must have!
Download full game now: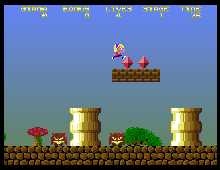 Giana Family screenshot
People who downloaded this game have also downloaded:
Giana Sisters 32k, Mario Forever, Fire & Ice, Electronic Popple, Rick Dangerous