Game Downloads
You're located in category:
Mad Mix (a.k.a. Pepsi Challenge, The)
Mad Mix from Spanish developer Topo Soft was released as The Pepsi Challenge in the UK, although there isn't anything related to Pepsi in the game. It's a Pac-Man clone, but there are some, err, 'alternative' power-ups, such as transforming you into a hippopotamus, allowing you to crush ghosts. There are also tiles and barriers which force you to travel in one way only, and runways which turn you into a jet fighter and let you shoot at the ghosts! The graphics are colourful, although the music is terrible. It's a bit easy but I enjoyed it, and I think the game is aimed at younger players anyway. Especially for the game's wonderful creativity... even if it's not so original.
Download full game now: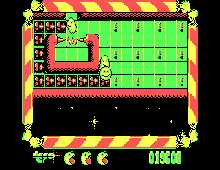 Mad Mix (a.k.a. Pepsi Challenge, The) screenshot
People who downloaded this game have also downloaded:
River Raid Remake, Legend of Billy The Kid, The, G-Nome, Vampire, Haunted House