Game Downloads
You're located in category:
Lost Patrol, The
Review 1:

The year is 1965. An American patrol got lost in Vietnam and You have to save them.To escape the bloodthirsty Vietcong soldiers You'll have to reach the base on the far east, but that sure is not an easy task. You'll fight snipers, VC patrols, interrogate civilians, encounter booby traps... Game is veeeery hard to complete, and the real bad thing about it are the controls.

Review 2:

One of the greatest wargames ever made for any computer platform. The Amiga version is without doubt the best version so play that version if you have the chance. The graphics and music are really great and even if the game play sucked (which it doesn't) I would still have played this game.

You are in charge of your own infantry group and are located in the middle of Vietnam in 1965. Your job is to lead your entire infantry group through the forest and in safety at an American base. Before you can succeed in that you can will have to fight the enemy through different combat modes including melee fighting with knives, sniper missions and real time action.

It's not enough just to succeed in the combat as you have to lead your soldiers through the best way which means you might even mave to move back towards your starting spot to avoid enemy troops. Remember that you have to avoid combat in any way you can as you don't have many men. Get this game now!

Review 3:

I never thought this Amiga classic made it to the PC, but obviously it did. The conversion was done by Astros Productions - so keep your expectations low .

For those who are not familiar with the Amiga original, The Lost Patrol is a classic hybrid game with action, adventure and RPG elements. After a helicopter crashes in the middle of Vietnam, you have to lead the 7 surviving soldiers into freedom, across 58 miles packed with Vietcong soldiers, camps, and the most feared booby traps. Gameplay combines the elements from many genres, and in many respects are closer to a "simulation" than standard strategy game due to a strong emphasis on realism (for example, you must pay attention to your troops' fatigue level, and there is a variety of Vietnam-war weapons in the game, including some infamous explosives). The PC conversion of the great Amiga game just shows again how important music and sound effects are to create a decent game atmosphere. As both are missing, the PC game is only half the fun - if at all. Also for some reason, mouse support has been left out. The game supports VGA, but the graphic conversion was done poorly as it only uses 16 colors instead of the 32 found in the original. Other than that, it's a somewhat acceptable conversion of a still interesting and unique game - but with the best things missing.
Download full game now: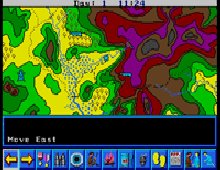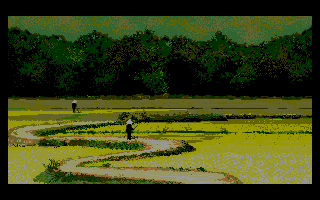 Lost Patrol, The screenshots
People who downloaded this game have also downloaded:
Pandemonium 2, Lemming Ball Z, NemesisCrisis: Operation Gallant Thunder, Legend of Billy The Kid, The, G-Nome