Game Downloads
You're located in category:
License to Kill
Review 1:

007: License to Kill is a great top-down shoot-em-up based on movie of the same name that stars Timothy Dalton as James Bond, the world's most famous secret agent. The plot is identical to the movie: James Bond decided to resign from the British secret service (once again) to avenge the death of Felix Leiter, his CIA friend. Bond's target: drug baron Sanchez.

The game's hallmark is the excellent level design: each new level is different enough from the last to keep you glued to the screen. You will shoot baddies on foot, battle over Miami bay in a helicopter and even underwater on your way to the final confrontation in gigantic oil tankers. The weapon selection is a little slim, and the game is definitely much harder than average as you are always swamped with enemies, but the game is well worth your time and effort. Kudos to Domark for producing one of the most successful film-based games ever made'in fact, the game is arguably better than the movie. If you are fans of Ikari Warriors, Operation Wolf, or similar games, you will have a blast with this Bond escapade. Highly recommended!

Review 2:

Become James Bond in his latest adventure and destroy the evil drug smuggler Sanchez. Guide 007 as he fights it out on Cray Cay, over Miami bay and underwater on his way to the final confrontation in 18-wheel oil tankers. Defeat Sanchez and give Bond what he wants most - REVENGE. On every level, you'll have a control panel on the right hand side of the screen. You'll always be shown the number of lives you have left, and you'll also see important information about the level you're playing - number of bullets, amount of oxygen, time remaining, etc. At certain times, a reticle will appear telling you to jump, shoot, etc. - press "fire" to do this. Once you have mastered each scene, improve your score by going round again, but this time it will be much harder.

Review 3:

Yup, another bond game, from the same year as the movie.

This game has a lot to offer, every stage has is own 'game'. First you have to fly around, with a helicopter shooting some stuff, then you land, and walk a stage with your gun. After that stage you have to put a magnet on a flying plane. In another stage your swimming in the water, etc. Lot's of gameplay and fun!
Download full game now: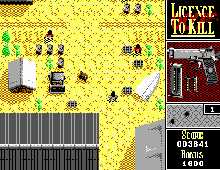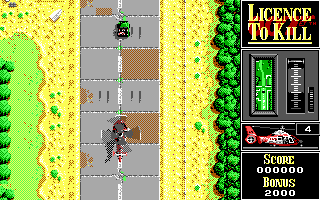 License to Kill screenshots
People who downloaded this game have also downloaded:
007 Goldfinger, Indiana Jones and The Last Crusade - The Action Game, Metal Gear Solid, Teenage Mutant Ninja Turtles 3: The Manhattan Missions, Simpsons: Bart's House of Weirdness, The