Game Downloads
You're located in category:
007 Goldfinger
Angelsoft's second game based on everyone's favorite spy movie follows the plot much more closely than James Bond: A View to A Kill. Goldfinger follows the plot of the third James Bond adventure: this time, the dangerously suave spy's objective is to terminate criminal capitalist Auric Goldfinger (and his assistants Pussy Galore and Oddjob) and foil his plan to contaminate Fort Knox's gold with atomic radiation, a strategy that would dramatically increase the value of Goldfinger's own hoard.

Gameplay is similar to A View to A Kill, full of action sequences that must be solved in split-seconds, although Angelsoft's awkward parser still subjects the player to the guess-the-verb-the-designer-wants problem. Most puzzles will prove very easy to fans of the movie, although anyone who has never seen it (perhaps anyone who's lived in caves for the past 20 years) will find them challenging due to the lack of clues. (The laser-moving-up-between-his-legs scene is a case in point). Overall, excellent writing and faithful reproduction of the movie's plot makes this one of the best Bond games ever made. Perfect for fans of the series, and well worth a play-through for all IF fans.
Download full game now: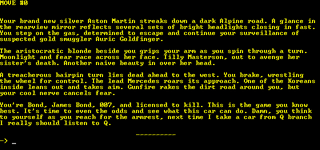 007 Goldfinger screenshot
People who downloaded this game have also downloaded:
James Bond 007 in: A View to A Kill, Jurassic Park, 20000 Leagues Under the Sea, Last Ninja, Star Flight 2