Game Downloads
You're located in category:
Kutar
This download includes 15 fun mini-games starring cute Japanese cat *kutar* (asterisks are phonetically correct), created by Giga-Rensya, a promising Japanese freeware site. Although the games are in Japanese, there is not much text to read since they are essentially action games-- and great ones at that (also, there is an English help file (in HTML format) included with every game). All the games feature excellent anime-style graphics, and are very easy to learn.

Examples of the mini-games in this zip are: Atheletic World of *kutah*, a 2-games-in-one game that includes a river-rafting game where you try to avoid the rocks while floating down the stream, and a log-jumping game where you try to keep the cat from falling into the waterfall by jumping from log to log. Nawatobi is a deceptively simple game of jump-rope, where all you need to do is click the mouse at the right time to make *kutar* jump over the rope. Each successful jump increases your score by one, but also makes the rope spins faster. This is one of the most addictive game of this pack (my highest score is 70-- something I could never manage to do in real life). Rodeo is a very difficult cow-taming cowboy sport where you must keep *kutar* on the cow as long as possible by using both mouse buttons. The problem is, it is not clear which way the cow is turning, and what each mouse click really does. This makes Rodeo the weakest and most challenging game of the pack. All in all, though, all of these *kutar* games are strangely addictive, and highly recommended for all fans of anime / manga games. They are simple and fast, which make them ideal for that 3-minute coffee break when you're in the middle of something more serious.
Download full game now: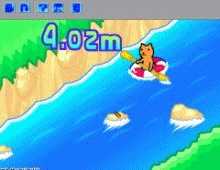 Kutar screenshot
People who downloaded this game have also downloaded:
Soldat, River Raid Remake, PANgIC Plus, Frenetic Plus, Harrier Attack