Game Downloads
You're located in category:
Krypton Egg: Ultimate Breakout
Review 1:

Described as the "best Breakout game in the world" by the French magazine PC Loisirs when it first came out, Krypton Egg is an excellent shareware Breakout game that boasts crisp and fast graphics (over 70 frames per second), 100 levels, 30 "spells" (power-ups), and a very nice soundtrack.

The gameplay will be familiar to anyone who has played Breakout or Arkanoid: you bounce an egg around the screen trying to hit bricks to clear them and go to the next level. While it doesn't break the mold, Krypton Egg offers plenty of creative power-ups that I have never seen in any other game, such as groth, slime, fire, and fly. These are called "spells" in the game, and you have to play the game yourself to find out what they do - I don't want to spoil the surprise ;) You will even fight "monsters" in this game during certain levels, when your paddle transforms into a craft which you control from a 2D side-scrolling perspective like other horizontal shooters. These Raiden-style levels come as a refreshing surprise that enliven the otherwise formulaic ball-and-paddle gameplay.

Suffice it to say that if you enjoy Breakout, you will love this modern remake that doesn't reinvent the wheel, but enhances the game with cool power-ups, zany animations, cool monsters, and excellent gameplay.

Review 2:

Very good brick game. Nice sounds, music and graphics. But hey what did you expect? It's from 1994. Not as old as Arkanoid.
Download full game now: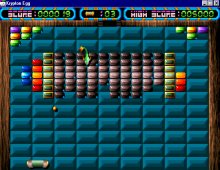 Krypton Egg: Ultimate Breakout screenshot
People who downloaded this game have also downloaded:
Frogger, Jazz Jackrabbit, G-Type, Pandemonium 2, James Pond 2 - Codename: RoboCod