Game Downloads
You're located in category:
Krusty's Super Funhouse
Krusty's Super Funhouse is a short, introductory-level platform game starring Bart's hero Krusty the Clown from The Simpsons cartoons. Vibrant graphics and imaginative level design, unfortunately, aren't enough to relieve the tedium of waiting for something to happen, as the game lacks varied enemies and challenging physical puzzles that characterize earlier games based on the license.

The game begins with a simple premise: help Krusty rid his house of invading rats by goading them into various traps around the house. This level can be considered a "tutorial" of sorts, because the mice are so easy to catch that you will likely get bored. The three remaining levels are progressively more difficult, but none of them will stump joystick experts. In contrast to Konami's earlier Simpsons games that feature a lot of neat, creative weapons from the TV show, Krusty's Super Funhouse is disappointingly limited. There are simply not enough things to do, items to use, and levels to play, to keep anyone's attention for very long. Worth a try for diehard fans of the TV series, but everyone would be better off playing Konami's earlier The Simpsons and The Simpsons: Bart's House of Weirdness instead.
Download full game now: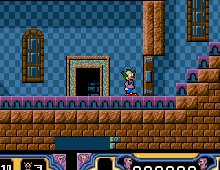 Krusty's Super Funhouse screenshot
People who downloaded this game have also downloaded:
Simpsons: Bart's House of Weirdness, The, Simpsons, The, Simpsons: Bart vs. The Space Mutants, The, Super Mario Pac, Home Alone