Game Downloads
You're located in category:
In Search of Dr. Riptide
In Search of Dr. Riptide is a fun shareware platformer from Raoul Said, designer of Pea Shootin' Pete. Similar to his other game, ISODR is fun, colorful, and nicely animated. As a naval officer, your mission is to discover and destroy the secret undersea laboratory of Dr. Riptide, an evil scientist bent on (duh) destroying the world.

The game is a side-scrolling shooter, with you controlling the submarine as it explores the underwater caverns. The game follows the same "if it ain't broke, don't fix it" approach of countless shooters before it, although there are several nice innovations. For example, you can launch a small submersible called "Jason" that will help you to reach smaller areas in the game. This is useful for collecting hard-to-reach power-ups, for example. If you like Pea Shootin' Pete or well-designed shooters in general, you will like this fun, unassuming game that boasts much higher production value (and number of levels) than its shareware status may suggest. Recommended!
Download full game now: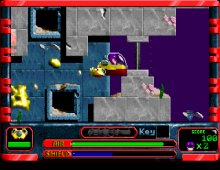 In Search of Dr. Riptide screenshot
People who downloaded this game have also downloaded:
Jazz Jackrabbit 2, Jazz Jackrabbit, Jazz Jackrabbit 2: The Secret Files, Fire Fight, James Pond 2 - Codename: RoboCod