Game Downloads
You're located in category:
Jazz Jackrabbit 2
One of the best side-scrolling arcade games ever made, bar none. Jazz Jackrabbit 2 is a superb 2D platformer, a sequel to Epic Megagames' earlier shareware classic Jazz Jackrabbit. In addition to smoothly animated cartoons, funny antics, and varied levels, JJ2 boasts a charming plot that is told via comic-book style intro movie (missing from this CD-rip, though). The big bad guy from the original game, doctor Devan Shell the mad turtle scientist, is back with another nefarious plot to kill our hero. This time, he came up with an ingenious idea: go back in time to kill Jazz's parents, thus preventing him from being born in the first place. In order to complete the time machine, he (strangely enough) stole a wedding ring that Jazz gave to his beloved. Your job, of course, is to get it back.

The gameplay remains the same as Jazz Jackrabbit, but with a much-improved engine and better everything. You can play at any of the three difficulty levels as either Jazz or Spaz, Jazz's more devious brother. Both rabbits have their own special moves and abilities: Jazz can use his ears to glide down slowly and can jump higher, while Spaz is faster and can pull off an awesome karate kick and a two-phase jump. By combining a jump and duck, you can stomp open crates that contain power-ups and bonus items. You can also switch between weapons using the number keys.

The star of Jazz Jackrabbit 2 is the level design. Levels are designed so that there are areas that only Jazz or Spaz can get to. This helps increase the game's replay value, but also makes cooperative play much more interesting. The levels range from underwater tunnels, a thick jungle, a huge medieval castle, and a weird alien landscape that looks like a scene out of Louis Carroll's books.

On the downside, Jazz Jackrabbit 2 is far too easy. Perhaps this is Epic's response to many players' criticism that the first game was too hard. But they definitely tilted the scale too far to the other extreme: most enemies are easy to beat even with your plain vanilla laser gun. Even if you are a novice arcade gamer, you will likely find most levels cakewalk until you encounter one of the few "bosses" toward the end.

Fortunately, Epic includes a number of bonus features that help make up for the game's short length. First, there is the "Jazz Creation Station," a nifty utility that allows you to create your own levels. While it is neither intuitive nor easy to use, it does help extend the longevity to anyone patient enough to learn how to use it. Second, multiplayer support is outstanding for a side-scrolling game. Up to 32 players can play together over a LAN or the Internet, and you can also play split screen on the same PC with up to four players. There are several game modes including "death match" style, racing, treasure hunt, capture the flag, and cooperative mode for the normal levels.

If you like 2D platformers, you will most likely love this underrated shareware games. It may not be as funny as Earthworm Jim series, or offers as exotic locales seen in Pitfall: A Mayan Adventure, but as platformers go, it is very, very good.
Download full game now: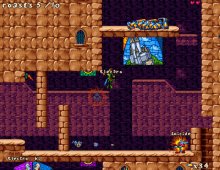 Jazz Jackrabbit 2 screenshot
People who downloaded this game have also downloaded:
Jazz Jackrabbit, Jazz Jackrabbit 2: The Secret Files, Jazz Jackrabbit: Holiday Hare 1995, Mario Forever, Duke Nukem: Waiting For Forever