Game Downloads
You're located in category:
Huu Baku
Huu Baku is a fun arcade game from Japan that plays like a cross between Lander and Sopwith, with a little bit of strategic element a la Armor Alley thrown in for good measure. The idea is that you control balloon that must specific targets while avoiding flying enemies and fighting gravity at the same time.

Similar to other excellent shooters from Japan, Huu Baku is pleasant to look at and a lot of fun. There are many kinds of enemy ships you will encounter, all of which are well-designed. The controls are easy to learn and use, and you can even see relative positions of enemy ships from the radar screen that sits unobtrusively in the bottom right corner. The style of the game reminds me of Twinbee, a console shooter classic, in the cartoony background and "SD-style" anime ships. With attractive graphics, fun gameplay (albeit a little too difficult for the reflex-impaired like me), and a semi-original premise that doesn't feel like your typical shooter, Huu Baku is a little-known gem that will keep all action fans entertained.
Download full game now: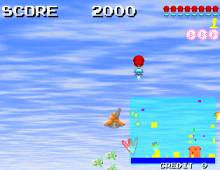 Huu Baku screenshot
People who downloaded this game have also downloaded:
Powball, Raiden II, Stardust, Giana Family, PANgIC Plus