Game Downloads
You're located in category:
Hotshot
Hotshot is a fun futuristic sport game that plays like a cross between Arkanoid and regular pinball. The object is to score more points than your opponent, by attracting a plasma ball and firing it with your Graviton Gun at a variety of bumpers and blocks. Although gameplay will be familiar to most arcade fans, Hotshot has many innovative elements that keep things refreshing. For instance, there are five levels of the game, each with increasing difficulty and number of goals to accomplish. While the goal of Level 1, 2, and 3 is to score as many points as possible within a time limit, your aim in Level 4 is to electrocute your opponent by destroying specific bricks that will raise the electrical terminals in his half of the screen. In Level 5, the ultimate challenge, your goal is to destroy your opponent by destroying bricks so that his screen shifts closer to the mysterious black-hole. There is a bonus level between each two levels where you can score extra points.

Overall, Hotshot is a fun Arkanoid variant that is best enjoyed with a friend. Fans of pinball games will like the pinball-style gameplay, although the ball's small size and awkward controls can get in the way. Not a keeper, but definitely worth a look.
Download full game now: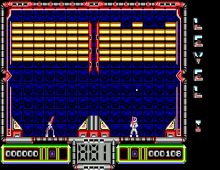 Hotshot screenshot
People who downloaded this game have also downloaded:
Kingpin: Life of Crime, Godfather, The, Jungle Strike, Super Mario vs. NWO World Tour, Huckleberry Hound