Game Downloads
You're located in category:
Jungle Strike
Review 1:

The story starts off with an island being nuclear bombed, and the two men behind it are residing somewhere out in the jungle alongside the weapons. Your mission, search and capture the two men involved before they launch an attack on Washington. You are given control of a Comanche Helicopter in order to find the two men, but will you reach them in time? Will Washington D.C. survive? The future of America, is in your hands!

Review 2:

Gremlin's excellent conversion of EA's console game, follow-up to the popular shoot'em up Desert Strike. Jungle Strike is basically the same game as its predecessor-- just set in a different scenario. In Jungle Strike you're mainly controlling the prototype helicopter "Comanche". In some missions, you can also use a hovercraft, a motorbike, or a F117 fighter. The controls in this shoot-em up are very easy and straightforward. As in most arcade shooters, you must collect new ammo, armor and fuel while fighting land, sea, and air-based enemies. In a nod to hard-core flight sims, all missions contain several sub-objectives, which have to be fullfilled in a given order. Most missions are set in either a jungle or city area.

With a good combination of arcade and sim elements, Jungle Strike is highly recommended for fans of the genre. If you like Safari's games (e.g. Seek & Destroy) but wish they were more sim-oriented in terms of having mission objectives and depletable fuel, Desert Strike is the answer. One caveat, though: to get this game to work on modern computers, you will have to pray to the holy computer heavens. If you prayed hard enough, the game might run. At least I got it to run after praying 12 hours or so. Starting it a hundred times in succession or fiddling around with memory configurations might also help at times ;) The fun is well worth it, however.
Download full game now: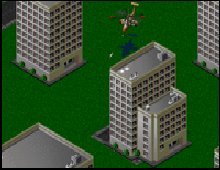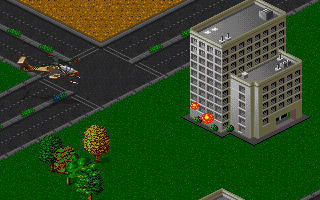 Jungle Strike screenshots
People who downloaded this game have also downloaded:
Desert Strike: Return to The Gulf, Desert Strike, Golden Axe, Metal Gear Solid, Cannon Fodder 2