Game Downloads
You're located in category:
Fight Man (a.k.a. Xiao Xiao 9)
Fight Man is the ninth entry in Zhu Zhi's popular Xiao Xiao series of Flash animation featuring kung fu-fighting stickmen that is fast becoming a modern cult classic. Zhu Zhi makes a game starring his characters once every few movies, and Fight Man is one of the better ones. It is not as much fun or lengthy as Xiao Xiao 4, the 3D shootout game, but it is still very enjoyable.

The game is a 2D side-scrolling beat 'em up starring the famous stickman hero from Xiao Xiao movies. Like in the Flash movies, you must punch, kick, and spin-kick your way through hordes of stickmen enemies. As in a typical side-scroller, you will die when your health bar reaches zero, and the game is over once you run out of lives. You can see how close each enemy is to dying by looking at his (her?) health bar, and there is a tough "boss" enemy you must beat to win the game.

There is only one level, which means a good action player would be able to finish it in less than 10 minutes. It is fun while it lasts, though, and for those of us who really enjoy watching kung fu moves of Xiao Xiao movies, playing Fight Man is the next best thing. Recommended as a fun little time waster.
Download full game now: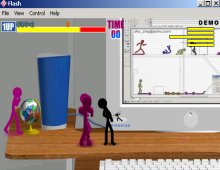 Fight Man (a.k.a. Xiao Xiao 9) screenshot
People who downloaded this game have also downloaded:
Xiao Xiao 4, X-Men: Children of The Atom, Daikatana, Front Mission: Gun Hazard, Freespace 2