Game Downloads
You're located in category:
Erachacha
Erachacha is a cute and enjoyable platformer from Korean publisher Mirinae Software, starring a cute goblin of the same name. The plot is typical Oriental folktale about ghost, but probably is exotic for Western gamers: a long time ago, the King of the Dark World, a kind devil, came to earth for a vacation. After hearing of the Dark King's visit, one evil devil thought that this would be his chance to conquer Earth, and so tricked the vacationing king into allowing ghosts to enter the earth realm. Freed to wreak havoc on the earth, the ghosts quickly flocked to their new playground, endangering all the people on the planet. Among the creatures of the earth was a brave little goblin named Erachacha. After returning to his village one day and finding that it had been attacked by ghosts, he took the Thunder Club, which was the treasure of his goblin town and prepared to rid the earth of it's ghostly attackers and their devilish leader.

The game is played from the usual side-scrolling 2D perspective, with attractive VGA graphics and sound effects. The game boasts over 30 frames per second even on the 386. Multi-screen scrolling, unique (again, to Western gamers) enemies encompassing a variety of ghosts, and excellent puzzle-oriented level design make the game a lot of fun. Erachacha has many cute and funny actions, including some very imaginative weapons to discover. Overall, Erachacha is an excellent release from the Orient that platformer fans should definitely take a look. Highly recommended!
Download full game now: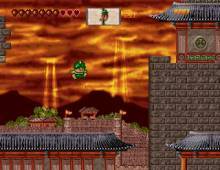 Erachacha screenshot
People who downloaded this game have also downloaded:
Haunted House, Codename: Gordon, Mario Forever, Inner Worlds, Fire Fight