Game Downloads
You're located in category:
Inner Worlds
Inner Worlds is a fun, very atmospheric shareware game that rivals Konami's classic Castlevania and features a few nice twists to the tried-and-true concept. You play a scantily-clad Nikita, who has the astonishing ability to turn into a ferocious she-wolf. Her quest is to track down Gralob, the evil monster creation of a misguided genius which has plagued the world for generations.

Gameplay will be familiar to anyone who's played side-scrolling platform games. Basically, Nikita runs, jumps and climbs in order to find health gems, spells and amulets and to fight off spiders and bats and all the usual plethora of monsters. The ability to change into a she-wolf adds a lot to the standard formula, though, since there are places where you must change into a she-wolf in order to pass, and you can't shapeshift at will since you need enough mana to do so (or enough shapeshifting potions). Puzzle elements are also sprinkled throughout the game-- for example, sometimes you need to use "levitate" potion to get to a high ledge.

The graphics are excellent, and in contrast to the "flat" 2D background of most games, Inner Worlds boasts outstanding illusion of depth, with many doorways you can enter. With 3 very different worlds, a lot of secrets to discover, and solid gameplay, this is one platform game that will keep you up nights, and will especially please Castlevania fans.
Download full game now: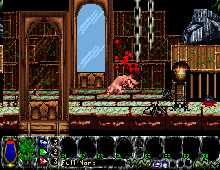 Inner Worlds screenshot
People who downloaded this game have also downloaded:
House of the Dead 2, The, Incoming, Magic Carpet Plus, Eternal Daughter, Erachacha