Game Downloads
You're located in category:
Colorado
Review 1:

I really wish more games had been made about this great and interesting historical period. In Colorado you play the game as an Indian and you have to survive in the wilderness by fighting animals, other Indians and different cowboys. You only start the game with a knife but you are able to pick up other weapons and different items as well. You can also trade goods for better things and of course steal things when you get the chance.

You can walk around in the forest and every new area you enter can offer new dangers so you always have to be prepared for new dangers. You can both walk around but also sail further down the river, which of course offer a faster way of travelling. Of course this way of transport isn't safe either. Not only will there be rocks you have to avoid in the water but also enemy Indians trying to destroy your boat or hit you off your own both. And of course finally the ones standing at the ground throwing things at you. But this part of the game is actually funny as you can also hit the other boats so they die.

The controls in Colorado aren't very good and it takes a long time to get used to them since your character moves very slowly and awkward as well. It would have been a much better game is the game flooded better. But it doesn't and because of this it looks like each area is divided into small fields where you can only move to one new field at a time. It's a bit hard to explain but I'm sure you will recognize this once you actually try the game yourself. Other than that the game does have some great ideas but sadly you don't get too much info on the actual plot but I'm still sure you will the game somewhat interesting.

Review 2:

The second survival game after Le Fetiche Maya, Colorado casts you as feerless adventurer who must deal with the Indians and wildlife in your search for the legendary Cheyenne goldmine. In addition to standard weapons, special objects such as a ship's horn lend an extra level of atmosphere and complexity to the already novel game. It's also a much better game than Silmaril's later survival game, the awful and frustrating Robinson's Requiem.

Review 3:

Quote: "Colorado 1801 - On the search of the legendary Cheyenne's gold mine." Apparently there are over 100 different scenes in this game, I wouldn't be at all surprised, and I got severely lost :). This is an adventure game in which you journey all over looking for the Cheyenne goldmine. You can collect all kinds of strange objects and have an adventure and half trying to remember where you are.

You get to fight with some Indians, and the elements. You get cool weapons like axes, knives and guns. The game even ends with some coolies white water rafting ;)

I didn't get to hear any sound, but the graphics are actually really good. The game is not that old when compared to others I've played nonetheless I was still pleasantly surprised. It's your typical adventure game! Definitely give it a shot.
Download full game now: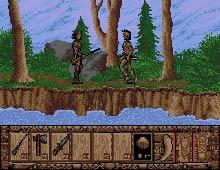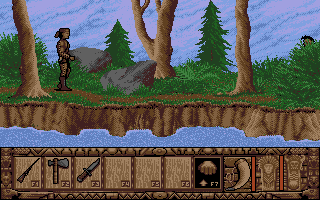 Colorado screenshots
People who downloaded this game have also downloaded:
Impossible Mission 2, Legend of Billy The Kid, The, Frogger, Dig Dug, Smoke Attack