Game Downloads
You're located in category:
Body Blows
Review 1:

This game has no real story line behind it, as far as I could see but none-the-less it is still a popular game that is loved by many people. Its been said that "you're a real man if you get the demo of Body Blows because you can't afford Street Fighter" and I can tell you; if you had the choice between Body Blows and Street Fighter, BB would win hands down. You have the choice of 10 characters, each of whom have their own special strengths and a bit of a story behind them. When you first enter the game, if you sit there for a minute or two it'll go through all the players and you can learn a little bit about them and try and decide who you'll use based on that. Once inside the game, you have the option of a 1 Player game, 2 Player game, Arcade game, or competing in a Tournament which works on a knock out basis. If you win, you're in; If you lose, you're out - may the best fighter win!

Review 2:

Very fast fight game, with stunning graphics. You can play with different kinds of characters against each other. Look a bit like streetfighter and that kinds of games. The sounds are also pretty okay!
Download full game now: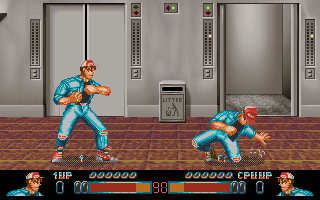 Body Blows screenshot
People who downloaded this game have also downloaded:
Bubble Bobble, Teenage Mutant Ninja Turtles, Blood 2: The Chosen, Aladdin, Budokan