Game Downloads
You're located in category:
Aladdin
Review 1:

You play the character Aladdin from the popular Disney movie/television series. The ultimate aim of the game is to save Princess Jasmine from the evil Jafaar. Jafaar has one half of a scarab which is needed to enter a secret cave in the dessert, Aladdin a street thief is *the* man who is able to find where the other half is and Jafaar becomes aware of it. Scramble your way through a series of levels fighting the palace guards, animals of the desert, and much more in an exciting adventure to save the Princess.

Review 2:

Another hero from Disney's hit movie comes to life in this excellent platform game. Lead Aladdin from his carefree life as street urchin to princess Jasmine's palace and beyond. Each level captures the movie's plot and feel perfectly-- whether Aladdin throw apples to trip his pursuers or somersault from roof to roof, the action never lets up and the game never lets you down. The only downside to this charming platform game is the fact that you *cannot* save-- a glaring omission that's an unreasonable remnant from the console version. Be prepared to set aside a huge block of time to finish this in one sitting :)

Review 3:

It's one of the typical Disney platform games, like the Lion King or other games like it. But hell yeah, that doesn't even have to mean that this game is bad or anything, it's just a fact that could affect your gameplay by, for example, making this one easier.

Well, I hope I don't need to tell you what the story of Aladdin is about. If you don't know, you probably suffer from severe brain damage and it wouldn't make sense if I tell someone with severe brain damage about this, as you will probably forget again. If none of the above applies to you, I urge you to rent or buy the Disney film and watch it.

This game is not an awful lot more than the story. Actually, you could say the storyline in this game represents the story line in the original Disney tale. This is a bit more agressive and a bit less romantic though and you don't get that much help from your big blue friend. You will have to fight yourself a way to your princess.

It's a game that could catch kids, especially Disney fans, to play it for hours having alot of fun. The graphics are very nice and the gameplay isn't too hard for small children. But also grown ups can play this one and have alot of fun with it. Recommended!

Review 4:

Disney Software and Virgin Interactive have created a very good game called Aladdin, wich is based on the movie. You have lots of levels including Bonus levels. You will see abu, jasmin and Jafar. Jafar is your enemy of course.

I like this game very much as the gameplay is very easy and each level can be very much different from each other: the first level in a town, were you have to defeat some enemies and go through a door somewhere else in the town and in the second level you are in a desert with snakes and birds, where you have to reach the end by walking through caves and over big rocks. Then there is a bonus level with Abu, where you have to gain as much points as possible. Later on in the game you'll reach the palace where you have some nice levels. In the end you'll have to pass a level with lava to reach Jafar, wich is hard to beat.

Review 5:

Platform gamewhere you can play different levels with your favourite eastern guy Aladdin. You know the guy from the Disney movie, or was it the other way around?
Download full game now: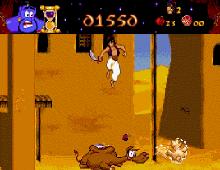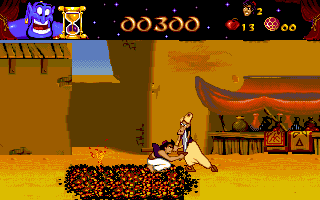 Aladdin screenshots
People who downloaded this game have also downloaded:
Lion King, 4D Prince of Persia, Mario Forever, Prince of Persia 2: The Shadow and the Flame