Game Downloads
You're located in category:
Bill & Ted's Excellent Adventure
This is a fun game featuring the Bill & Ted characters of Keanu Reeves and Alex Winter in the 1989 movie by Nelson Entertainment. As Bill and Ted, you're going to the same whacked-out, time-warped trip through human history seen in the movie. The goal: nab a few famous persons from history so that they can help you pass the most heinous history exam. With the aid of a traveling phone booth, you need only to dial a year and off you go, back in time.

Bill & Ted's Adventure touts itself as an arcade adventure, but the "adventuring" portions of the game are so laughably simplistic that no-one should mistake it for another LucasArts classic. The action portion, however, is quite good-- a fact that will surprise many old-timers who recall Capstone as one of the (if not THE) worst game companies ever existed. The 12 historical celebrities (ranging from Joan of Arc, to Sigmund Freud and Gengkhis Khan) are in their own time periods, replete with good background graphics and enemies appropriate for that era. Fighting thugs and finding these "dudes" are half the task-- in many cases, you'll need some object to convince them to go with you. On difficulty levels 3 and 4, you'll need more than one object. There is some (albeit minimal) educational value here, as you'll have to guess which object is wanted by whom (still, TWINKIES for Gengkhis Khan ought to make parents shake their heads in disbelief). Overall, a "light" side-scrolling game that may be mildly entertaining for fans of the movie, and is a slightly better game than Capstone's other failures.
Download full game now: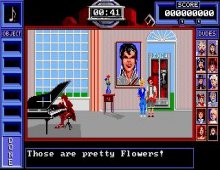 Bill & Ted's Excellent Adventure screenshot
People who downloaded this game have also downloaded:
Back to The Future III, Back to The Future II, Aladdin, Simpsons, The, Batman Forever