Game Downloads
You're located in category:
Back to The Future II
Review 1:

A fun game based on the hit Michael J. Fox movie of the same name, Back to The Future II closely follows the movie's plot and is high on the fun factor. The plot picks up where the first Back to The Future movie left off: after finally returning to the present (1985) from the year 2015 on a whirlwind tour of the future, Marty McFly learned, to his horror, that he must go back to the future with Doc again in order to change the course of history in order to avert time paradoxes that puts his own family in peril. In true Image Works / Mirrorsoft fashion, Back to The Future II is a collection of five distinct mini-games that each tell a chapter of the story. If you have seen the movie, you pretty much know what to expect from the next chapter, although there are enough surprises and twists in each to keep things refreshing. The designers obviously went to great lengths to ensure that no two mini-games are alike. The beginning chapter, for instance, is a furious Paperboy-style isometric racing game, in which you control Marty on his trusty Hoverboard in the year 2015, avoiding various obstacles on and off the road. When you gain access to the De Lorean time-travel car, you will be treated to a fun mini-driving simulator that may not be Test Drive, but offers plenty of challenge all its own.

Overall, solid gameplay and homage to the movie makes Back to The Future II a fun game that is a little bit too short, but is entertaining while it lasts. Unlike some Image Works games, it also borders on the easy side, which makes it a good starting point for newcomers to the action genre. Recommended, especially to fans of the movie.

Review 2:

Weird game based on the second movie of Back to the Future. You are starting on your skateboard in the future.
Download full game now: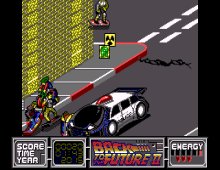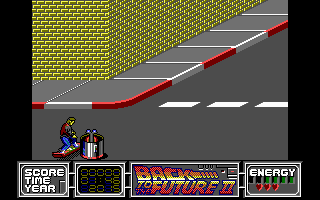 Back to The Future II screenshots
People who downloaded this game have also downloaded:
Back to The Future III, Aladdin, Batman: The Movie, Simpsons, The, Bill & Ted's Excellent Adventure