Game Downloads
You're located in category:
Battledrome
Battledrome is the first release in Dynamix' MetalTech giant-robots universe that bears more than a passing resemblance to FASA's BattleTech. Fortunately, the game is strong enough to be able to stand on its own without a FASA license. Unfortunately, most gamers passed this old game by in favor of official FASA-licensed titles.

Designed primarily as a head-to-head giant robots fighting game, Battledrome succeeds in capturing the frantic, tonnage-for-tonnage feel of a giant robots deathmatch. The two-player aspect of Battledrome (network or modem) is a lot fun and ahead of its time as a predecessor to Activision's NetMech. Not surprisingly, the single-player mode is quite disappointing due to its lack of campaign or career mode of any kind.

Batttledrome has very dated graphics - barely superior to MechWarrior 1's solid polygons, and worse in most areas, but still passable. Overall, a solid first start for Dynamix, although the game could have been much better (and a Top Dog) with a more integrated storyline and single-player campaign.
Download full game now: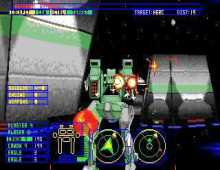 Battledrome screenshot
People who downloaded this game have also downloaded:
Earth Siege 2, Battle Arena Toshinden, Battle Arena Toshinden 2, Earth Siege, Blam! Machinehead